Abbkine Scientific launches new product - IFKine™ Red Donkey Anti-Rabbit IgG
Date:2017-04-08
Views:1976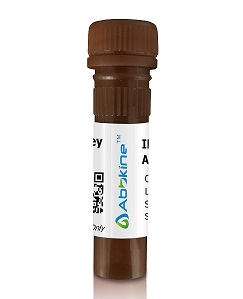 Wuhan, China. 430074. 8th April 2017. The newly launched IFKine™ Red Donkey Anti-Rabbit IgG, is the latest discovery by renowned science research company, Abbkine Scientific. This antibody like the others from Abbkine, are designed to be used in several antibody-based applications.
IFKine™ Red conjugated antibodies absorb light maximally around 591 nm and fluoresce with a peak around 615 nm. They are brighter, more photostable, and more hydrophilic than other red-fluorescing conjugates.  IFKine™ Red antibodies are some of the secondary antibodies of high quality sourced from animals like goat and donkey, for professional scientific research purposes.
The IFKine™ Red Donkey Anti-Rabbit IgG is just one out of the series of Abbkine IFKine™ unique fluorence staining secondary antibodies that comes with features like photo stability, less nonspecific hybridization, and improved brightness.
The unique features of the product ensures that scientists get the best fluorescent performance, with its host – donkey, making it ideal for fluoresce staining, especially in fluoresce multiple labeling.
The Donkey is the host of the newly launched IFKine™ Red Donkey Anti-Rabbit IgG, with rabbit being the reactivity. The antibody is to be applied in FCM, IF, and ICC, with Rabbit IgG whole molecule immunogen.
The anti-rabbit IgG comes in a liquid solution and is Affinity purified using solid phase Rabbit IgG (H&L) with finally > 95% purity based on SDS-PAGE. The product is specifically designed for research purposes, with optimal dilutions determined by the investigator after series of experiments. However, the suggested dilution for most fluorescent applications starts from 1:50 to 1:1,000.
-MORE-
About Abbkine Scientific
Abbkine Scientific Co. Ltd is a scientific research company founded in 2012 in the United States. Established by a team of scientists and marketing experts, the company moved its headquarters to China to meet up with the growing demand from the Asia Pacific.
The company has been able to combine cutting edge technology from United States and manufacturing engineering and cost advantages from China to provide innovative, high quality assay kits, recombinant proteins, antibodies and other research tools to accelerate life science fundamental research, drug discovery, amongst others.