Abbkine Scientific announces the launch of Cell Counting Kit-8 (CCK-8)
Date:2017-04-04
Views:2559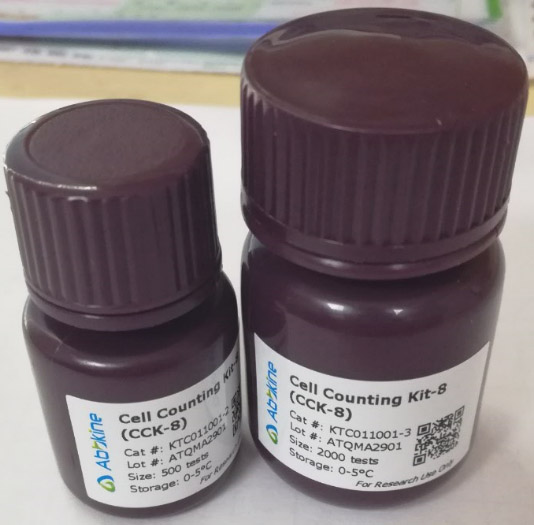 Wuhan, China. 430074. 4th April 2017. Abbkine Scientific recently announced the launch of its cell proliferation and cell toxicity kit called the Cell Counting Kit-8, otherwise known as CCK-8. The kit is made to allow for the easy detection of cell toxicity and proliferation based on WST-8. The WST8 approach adopted for the manufacturing of the kit gives an orange colored product due to the reduction by dehydrogenases in cells.
The formulation is in a liquid solution, with the kit containing CCK8 solution. The CCK8 uses highly water-soluble tetrazolium salt WST 8:[2-(2-methoxy-4-nitrophenyl)-3-(4-nitrophenyl)-5-(2,4-disulfophenyl)-2H-tetrazolium, monosodium salt] that changes to a water-soluble orange formazan dye by reduction.
The low toxicity of the Cell Counting Kit and the determination of the number of viable cells in cytotoxicity assays and cell proliferation due to its sensitive colorimetric assays are distinguishing features of the CCK 8.
Abbkine's featured CCK8 is a one-bottle ready to use solution, helping to reduce the time and stress involved in the process. Due to the water solubility of the product, no organic solvents or isotopes is required. The stability and safety of the formazan is another major benefit of the kit.
One of the most distinguishing factors of the kit when compared to other cell counting kit is its detection sensitivity feature that is higher than assays when other tetrazolium salts like XTT and MTT are used. The effectiveness of the kit surpasses that of its peers, with the ability to use the same cells for other cell assays thanks to the low toxicity of the Cell Counting Kit by Abbkine Scientific.
About Abbkine Scientific
Abbkine Scientific Co. Ltd is a scientific research company founded in 2012 in the United States. Established by a team of scientists and marketing experts, the company moved its headquarters to China to meet up with the growing demand from the Asia Pacific.
The company has been able to combine cutting edge technology from United States and manufacturing engineering and cost advantages from China to provide innovative, high quality assay kits, recombinant proteins, antibodies and other research tools to accelerate life science fundamental research, drug discovery, amongst others.