Abbkine Scientific's new antibody aids easier and more effective IP and co-IP research
Date:2017-04-13
Views:2529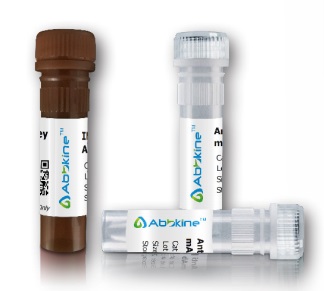 Wuhan, China. 430074. 13th April 2017. IPKine™ HRP, Goat Anti-Mouse IgG LCS is the latest HRP Secondary Antibody from the scientific research giant, Abbkine Scientific. The product is released as part of the Abbkine's IPKine™ series designed to aid the process of research and enhance accuracy in results.
The Anti-Mouse Light Chain immunogen antibody is available in liquid solution, with mouse reactivity. The secondary antibody is made to be perfect for different applications which include Western Blot, IP and co-IP.
The antibody is made under strict quality control process, using a unique purification method. IPKine™ HRP, Goat Anti-Mouse IgG LCS, is affinity purified with over 95% based on SDS-PAGE using solid phase Mouse IgG light chain.
Sourced from goat, the antibody does not react with the heavy chain of mouse IgG, while reacting with kappa light chains on mouse IgG. Unlike other antibodies, the IPKine™ HRP, Goat Anti-Mouse IgG LCS does not suffer from heavy or light chain blotting contamination, thanks to less background noise and enhanced accuracy. Its light fragment specific optimization also helps to eliminate heavy chain interference as the case may be.
IPKine™ HRP, Goat Anti-Mouse IgG LCS is specifically made for research purpose only and should not be administered on human or used for clinical diagnosis.
-MORE-
About Abbkine Scientific
Abbkine Scientific Company Limited is a life science research company headquartered in California. Founded in 2012, the establishment has been able to spread its tentacles across the globe with increasing presence and acceptance from Asia Pacific thanks to its continuous efforts to make the world a better place.
Abbkine combines cutting edge technology with manufacturing engineering and cost advantage to provide innovative, high-quality assay kits and other research and scientific products enhance life science fundamental research and drug discovery amongst others.