Abbkine Scientific adds PurKine™ His-Tag Ni-Super Resin to the its product list
Date:2017-06-15
Views:2052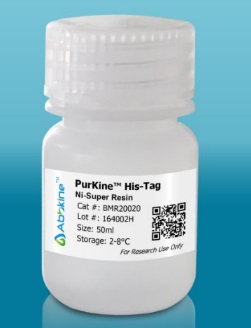 Wuhan, China. 430074, 15th June 2017. Abbkine Scientific has added the PurKine™ His-Tag Ni-Super Resin to its long list of high-quality scientific research product. Also known as the His tag resin, the product is made using the latest synthetic process of resin production, combined with cutting-edge techniques for the resin development and accessories optimization.
The product is created to simplify and enhance the process of purification, based on innovative high-capacity IMAC matrix, ensuring single-step purification of His-tag proteins from total lysates. The Ni-Super resin as it is also known is effective for purifying his-tag proteins from samples that can cause Ni stripping from the medium, such as secreted proteins in liquids containing chelators.
The resin comes with two distinct benefits compared to Ni-NTA and Ni-IDA, which are high tolerance and easy cleaning. Unlike other resins, the product is more tolerable to various chemicals including reducing, chelating agents, with easy cleaning using NaOH.
The resin comes in a liquid solution and is available in multiple formats including bulk resin, spin columns and complete kits, allowing for flexibility. In addition to its easy cleaning feature, the product is also versatile and cost-effective, showing no decrease in performance after about five repeated uses of the same batch of resin.
The Ni-Super resin is for research use only and is not intended for use in human or clinical diagnosis.
About Abbkine Scientific Co. Ltd
Abbkine Scientific Co. Ltd is headquartered in California. The life science research company was founded in 2012 and has subsequently reached the rest of the world, with a wide range of high quality science products and services.
-MORE-
Abbkine Scientific combines cutting edge technology with manufacturing engineering and cost advantage, providing high-quality and innovative assay kits and other research and scientific products designed to enhance life science fundamental research and drug discovery amongst others.