Abbkine announces the release of its new antibody - IPKine™ HRP Goat Anti-Mouse IgG HCS
Date:2017-04-26
Views:2363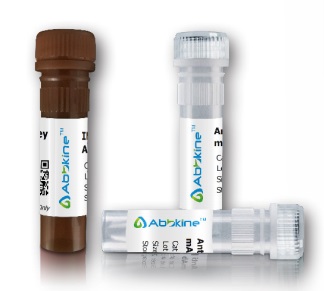 Wuhan, China. 430074. 26th April 2017. Abbkine Scientific is no doubt one of the world's leading scientific research companies and the institution recently announced the addition of another antibody into the IPKine family. The IPKine™ HRP Goat Anti-Mouse IgG HCS is an HRP Secondary Antibody designed to help researchers and scientists get the best out of their works without necessarily breaking the bank.
The Anti-Mouse Heavy Chain comes in a liquid solution with such features as heavy chain/Fc fragment specific optimization, helping to eliminate light chain interference. Its absorption of serum proteins also helps to minimize cross-reactivity with immunoglobulins from other species, which are some of its unique features.
The antibody reacts with Fc portion of mouse IgG heavy chain, while it doesn't react with the Fab portion of mouse IgG. It's cross-reaction with human, bovine and horse serum proteins has been specialized minimized, while it may cross-react with immunoglobulins from other species. It has no reactivity on non-immunoglobulin serum proteins.
With its host being the goat, the antibody's applications include WB, IP and others, hence a co-IP. For optimal working conditions, the dilutions should be determined by the investigator through experiment. However, the suggested solutions are WB 1:10,000-1:100,000, IHC 1:500-1:5,000 and ELISA 1:5,000-1:100,000.
The IPKine™ HRP Goat Anti-Mouse IgG HCS can be stored for as long as one year from the shipment date at a stable -20°C. However, the product is specifically designed for research use only and should not be used for clinical diagnosis or human use.
About Abbkine Scientific
Abbkine Scientific Company Limited is a life science research company headquartered in California. Founded in 2012, the establishment has been able to spread its tentacles across the globe with increasing presence and acceptance from Asia Pacific thanks to its continuous efforts to make the world a better place.
Abbkine combines cutting edge technology with manufacturing engineering and cost advantage to provide innovative, high-quality assay kits and other research and scientific products enhance life science fundamental research and drug discovery amongst others.