The SuperLumia ECL Plus HRP Substrate Kit is another breakthrough recovery from Abbkine Scientific
Date:2017-02-08
Views:3330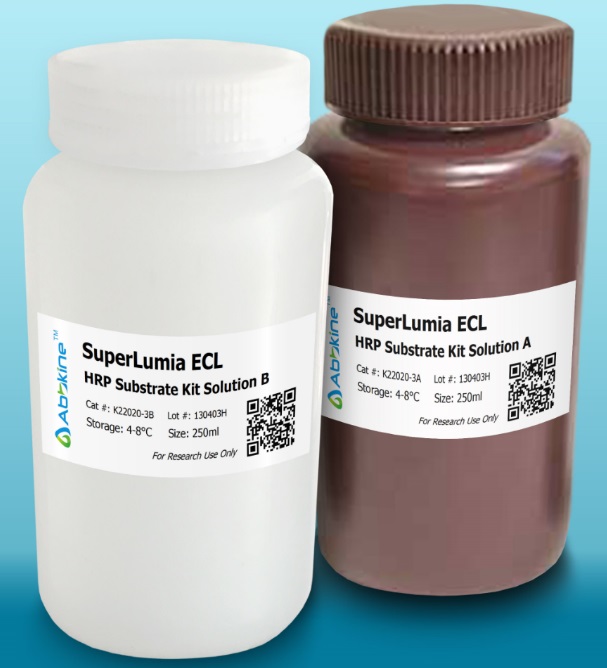 Abbkine Scientific recently announced the launch of the SuperLumia ECL plus HRP substrate kit otherwise known as Enhanced Chemiluminescence, a part of the series of ready-to-use and premixed chemiluminescent reagents used for detecting HRP-based Westerns.
The Electrochemiluminescence is optimized for femtogram amounts of detecting antigen on immunobots, by pouring the substrate directly onto the blot membrance without worries about pipetting error. ECL's unique intense signal output makes it easy to perfectly detect femtogram amounts of antigen either with photographic imaging or other imaging techniques.
The kit comprises of Reagents A and B, which are sized equally, with inherent benefits that include cost-effectiveness due to the entry-level peroxidase substrate for ECL, replacing more expensive products without needing to re-optimize conditions.
ECL users are advised to optimize all system components like sample amount, the membrane, antibody concentrations, and blocking reagents for the best results. Due to the high sensitivity of ECL, it requires lesser sample and antibodies compared to other substrates in the market.
The substrate can be stored for one year from the shipment date at a stable temperature that range between 4 and 8°C. It is imperative that the substrate is kept away from sunlight or any other intense light as much as possible as this is harmful to the solution, especially if exposed for a long period.
About Abbkine Scientific
Abbkine Scientific Company Limited is a life science research company headquartered in California. Founded in 2012, the establishment has been able to spread its tentacles across the globe with increasing presence and acceptance from Asia Pacific thanks to its continuous efforts to make the world a better place.
Abbkine combines cutting edge technology with manufacturing engineering and cost advantage to provide innovative, high-quality assay kits and other research and scientific products enhance life science fundamental research and drug discovery amongst others.