The Role of PCNA in Cell Proliferation
Date:2021-11-12
Views:517
Proliferating cell nuclear antigen (PCNA) protein is one of the central molecules responsible for decisions of life and death of the cell, and it is an important cell proliferation marker. In addition, the evaluation of cell proliferation activity in tumors provides useful information for assessing diagnosis, clinical behavior, and therapy in latest research flow.
PCNA was originally identified as an antigen that is expressed in the nuclei of cells during the DNA synthesis phase of the cell cycle. PCNA expression correlates with the proliferation activity of several malignant and non-malignant cell types.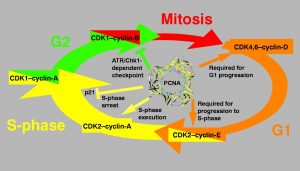 Picture Source: Journal of Cell Science (Powered by The Company of Biologists)
In Abbkine primary antibody portfolio, I highly recommend ourPCNA Polyclonal Antibody, you can refer to the specific product information in below chart:
| | | | | | |
| --- | --- | --- | --- | --- | --- |
| Product Name | Catalogue Number | Reactivity | Application | Concentration | Size and Price |
| PCNA Polyclonal Antibody | ABP0112 | Human, Monkey, Mouse, Rat | ELISA, IHC-p, WB | 1 mg/ml | $229/100μl |
For quality assurance, you can also see below validation result provided by Abbkine factory:
| | |
| --- | --- |
| | Fig.1. Western Blot analysis of various cells using PCNA Polyclonal Antibody diluted at 1:2000 |
| | Fig.2. Western Blot analysis of COS7 cells using PCNA Polyclonal Antibody diluted at 1:2000. |
Further, there are many other products that Abbkine provides to help you study PCNA. I selected some hot products for you and listed as below:
If you are interested in any of items that Abbkine provides to study PCNA, feel free to contact Abbkine service representative at service@abbkine.com, you will get reply shortly.
Cell and protein research tools
Abbkine focuses on the fields of proteinology and cytology, and is committed to the innovation and research and development of various antibodies, proteins, analytical reagents and kits, in order to become a key promoter in the development of life science research, drug development and other fields. We provide you with the favorite products of protein and immune research users, from basic immunological products, such as protein extraction and quantification, to internal reference label antibodies, primary antibodies and secondary antibodies for immunological experiments; the favorite products of cell research users, from Dyes and kits for detecting cell status, organelle extraction kits, cell substructure staining and tracking and cell metabolism detection products, to cytokine and protein detection kits for cell culture, just to help your research career !