Abbkine Scientific Announces Release of a New Antibody - Anti-GAPDH Mouse Monoclonal Antibody (2B5)
Date:2017-01-23
Views:3194
The new discovery made by scientific research company, Abbkine Scientific Company Limited is another milestone achieved in the science world, with the announcement of the Anti-GAPDH Mouse Monoclonal Antibody (2B5).
The monoclonal antibody otherwise known as GAPDH comes in a liquid solution. Glyceraldehyde 3-phosphate dehydrogenase, is a ~37kDa enzyme, synonymous with crystallizing the sixth step of glycosis and subsequently helping with the breakdown of energy and carbon molecules. The Peptidyl-cysteine S-nitrosylase GAPDH in addition to these function, also helps in a number of non-metabloc processes that include transcription activation, initiation of apoptosis ER to Golgi vesicle shuttling, and fast axonal, or axoplasmic transport.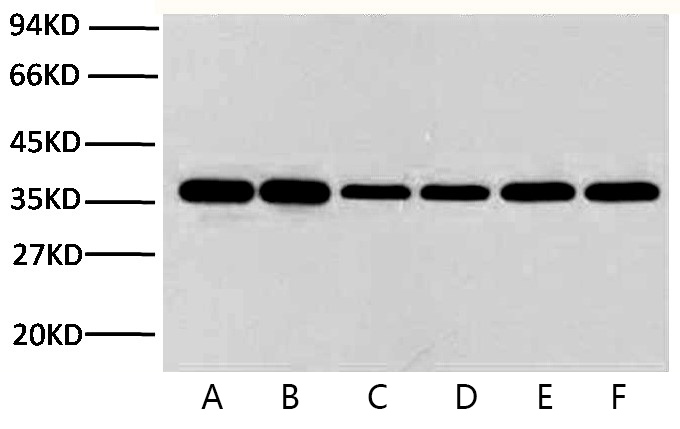 The release of the product is therefore a giant stride in the world of science. The applications of the antibody are IHC and WB, with a synthetic peptide immunogen. the product's reactivity is in Chicken, Dog, Human, Insect, Monkey, Mouse, Pig, Rabbit, Rat, Sheep, and Yeast, hosted in mouse, and therefore having a Mouse IgG1 isotype. Its Gene ID is 2597, with a P04406 accession.
For optimal results, it is advised that the investigator experimentally determines the best working dilutions, with suggested starting dilutions stated as WB 1:5000, IHC-p 1:200. The product was affinity-purified from mouse ascites, with the affinity-chromatography method, using specific immunogen.
The product is best stored at -20°C, with guaranteed one year stability from the date of shipment. It is advised that the original vial is centrifuged after thawing and before removing the cap, for maximum recovery of the product. Shipping should be done gel-packed with blue ice.
The product is made for specifically for research use and should not be administered for use in human or clinical diagnosis.
About Abbkine Scientific Co., Ltd
Abbkine Scientific Co., Ltd was founded in California in 2012 by a group of scientists and marketing experts in the life science field. The company since it was founded has provided innovative, high quality and cost-effective life science research and diagnosis products which have led to its steady and significant growth.
The company aims to continue to provide innovative, high quality assay kits, recombinant proteins, antibodies and other research tools to accelerate life science fundamental research, and drug discovery, with the combination of cutting edge technology from United States with China's manufacturing engineering and cost advantages.
Abbkine is determined to advance human and animal health by harnessing the best of human resources in combination with state-of-the-art technology. Since its founding, the company has been able to provide the highest quality products at affordable prices, some of which are listed below.
Full portfolio of epitope antibodies and internal control antibodies with custom conjugates;
Full portfolio of phospho-specific and featured methylation-specific antibodies with small size;
Top sale secondary antibodies with IFKine series for IF and IPkine for IP-WB analysis;
Full portfolio of protein purification tools with high quality and competitive price;
Top sale recombinant cytokines and growth factors;
More Cell function analysis kits, ELISA kits and cell tracking reagents are coming soon