SuperLumia ECL Plus HRP Substrate Kit from Abbkine Scientific
Date:2018-05-04
Views:1773
Abbkine SuperLumia ECL HRP Substrate Kits are value-priced, classical peroxidase substrates for enhanced chemiluminescence (ECL) that directly replace costlier products without the need to re-optimize conditions.
The family of SuperLumia ECL substrates is a series of ready-to-use chemiluminescent reagents for the detection of HRP-based Westerns. SuperLumia ECL Plus HRP substrate reagent is specially optimized for femtogram amounts of antigen detection on immunoblots.
SuperLumia ECL substrates are deeply favored by researchers for exhibiting excellent performance with high sensitivity and low background.
The SuperLumia ECL Plus HRP Substrate Kit comprises of Reagents A and B, which are sized equally. The featured product has below benefits
The highest sensitive detection are at the femtogram level
Same quality and performance with affordable price
Extremely sensitive at femtogram level, requires much less sample and antibodies
Intense signal output and long duration
Pouring directly onto the blot membrane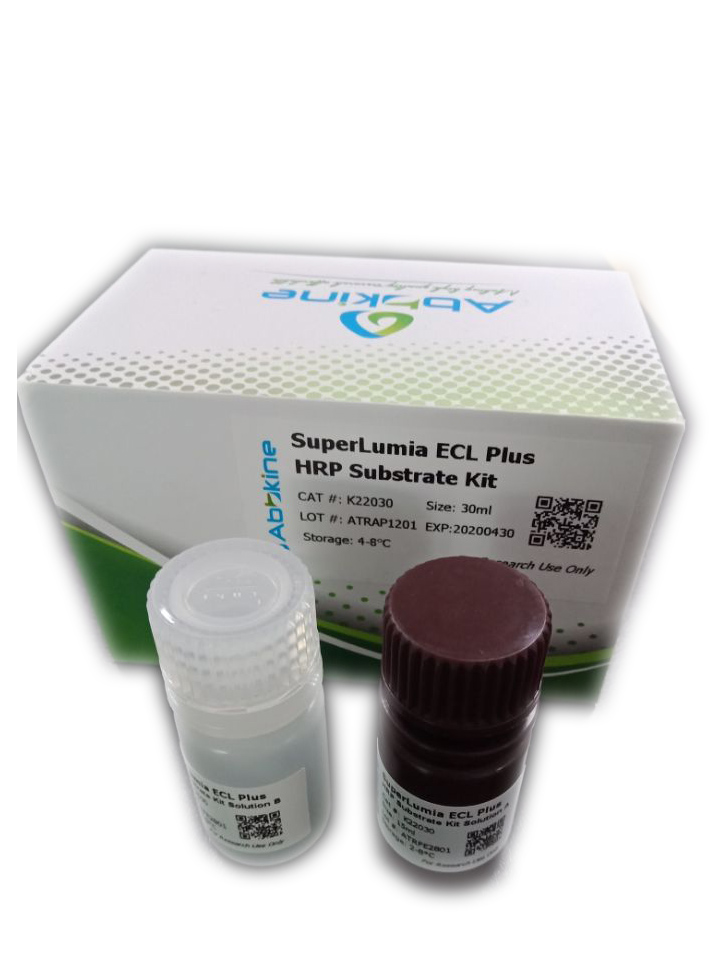 Since Abbkine launches the ECL HRP Substrate Kit to the market, the product has been popular with ECL customers. We suggest ECL users to optimize all system components like sample amount, the membrane, antibody concentrations, and blocking reagents for the best results due to the high sensitivity of ECL. If you use the product, you will be impressed with your blots choice and imagination forever.
About Abbkine Scientific Co., Ltd.
Abbkine Scientific Co., Ltd. is a leading biotechnology company that focuses on developing and providing innovative, high quality assay kits, recombinant proteins, antibodies and other research tools to accelerate life science fundamental research, drug discovery, etc. Find more details, please visit the website at Abbkine.