Efficient & Sensitive EliKine™ ELISA kit, On Big Sale!
Date:2023-02-06
Views:160
With years of experience in antibody development, after strict quality control test, Abbkine has launched EliKine™ ELISA Kits with high specificity and sensitivity. The detection target can be classified into cytokines, hormones and other proteins. EliKine™ ELISA Kits are validated with various samples collected from human, mouse and rat which can meet your diverse research needs.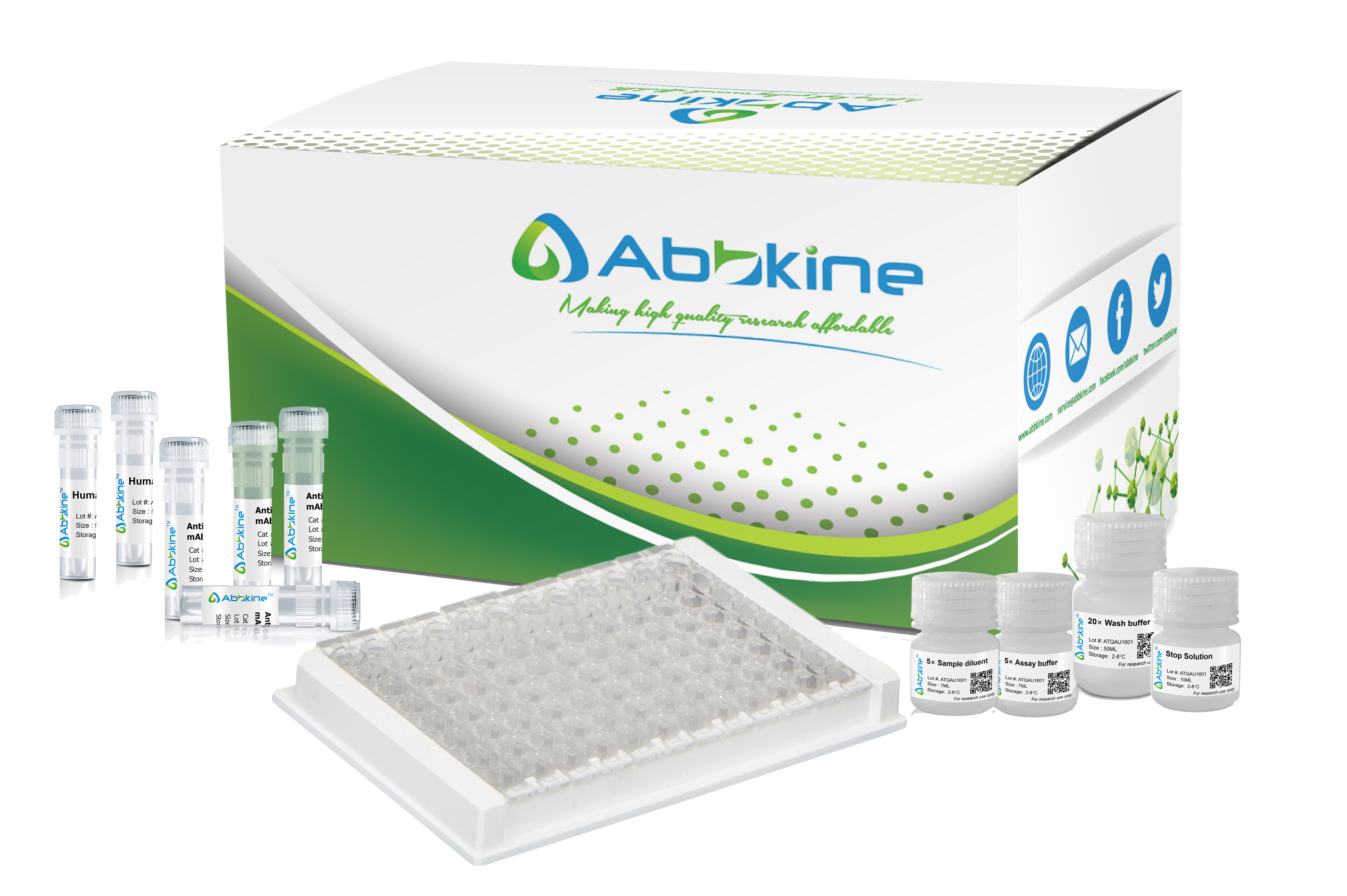 Part one:Features & Advantages of EliKine™ ELISA
EliKine™ sandwich ELISA kits depend on paired capture and detection antibodies, which are both specific to the antigen with 2 epitopes, while competitive ELISA kits employ the competitive inhibition enzyme immunoassay technique with featured and specific detection antibodies. Exclusive EliKine™ Streptavidin-HRP conjugate, and HRP substrate with other optimal components make EliKine™ portfolio be one of the best and most economical choices for ELISA assay researchers. Our complete, ready-to-use ELISA Kits reduce assay time and variability and are available in either 48T or 96T pre-coated plate options.
1.Antibody pairs with high quality
2.High efficiency, sensibility and specificity
3.48 test pre-coated package for easy entrance
4.Strip microplate format with greater flexibility
5.Suitable for multiple types of samples
6.Professional technical support and after-sales service
Part two:
Cytokines are a broad and loose category of small proteins (5~20 kDa) that are important in cell signaling. They are produced by a broad range of cells, including immune cells like macrophages, B lymphocytes, T lymphocytes and mast cells, as well as endothelial cells, fibroblasts, and various stromal cells. Cytokines are most often associated with immune modulating molecules such as interleukins, chemokines, and interferons, but can also include other molecules. ELISA is the most popular way to detect cytokines and forms the basis for most other methods in use today. Depending on validated antibody pair, high quality reagents and optimized experiment protocol, EliKine™ ELISA Kit provides a kind of detection method with high sensitivity and strong specificity, covering most of cytokines in human, mouse, rat and other species.
EliKine™ ELISA kit also cover other proteins to satisfy your biology research needs. Our aim is to provide high quality products and good service for researchers from all over the world and to promote the scientific progress. Abbkine continues to develop new ELISA kits, covering cytokines, blood factors, hormones, peptides, immunoglobulins and other substances, which can meet the diverse research needs from researchers all over the world.
More promotional activities are in progress, please consult local agents for details!
| | | |
| --- | --- | --- |
| Product Name | Catalog No | Size |
| EliKine™ Human CCL2 ELISA Kit | KTE6001 | 96 T |
| EliKine™ Human CCL3 ELISA Kit | KTE6002 | 96 T |
| EliKine™ Human CD54 ELISA Kit | KTE6003 | 96 T |
| EliKine™ Human CRP ELISA Kit | KTE6004 | 96 T |
| EliKine™ Human EGF ELISA Kit | KTE6005 | 96 T |
| EliKine™ Human bFGF ELISA Kit | KTE6006 | 96 T |
| EliKine™ Human G-CSF ELISA Kit | KTE6007 | 96 T |
| EliKine™ Human GM-CSF ELISA Kit | KTE6008 | 96 T |
| EliKine™ Human HGF ELISA Kit | KTE6009 | 96 T |
| EliKine™ Human IFN-α ELISA Kit | KTE6010 | 96 T |
| EliKine™ Human IFN-γ ELISA Kit | KTE6011 | 96 T |
| EliKine™ Human IL-1α ELISA Kit | KTE6012 | 96 T |
| EliKine™ Human IL-1β ELISA Kit | KTE6013 | 96 T |
| EliKine™ Human IL-2 ELISA Kit | KTE6014 | 96 T |
| EliKine™ Human IL-4 ELISA Kit | KTE6015 | 96 T |
| EliKine™ Human IL-5 ELISA Kit | KTE6016 | 96 T |
| EliKine™ Human IL-6 ELISA Kit | KTE6017 | 96 T |
| EliKine™ Human IL-8 ELISA Kit | KTE6018 | 96 T |
| EliKine™ Human IL-10 ELISA Kit | KTE6019 | 96 T |
| EliKine™ Human IL-12 p70 ELISA Kit | KTE6020 | 96 T |
| EliKine™ Human IL-13 ELISA Kit | KTE6021 | 96 T |
| EliKine™ Human IL-17 ELISA Kit | KTE6022 | 96 T |
| EliKine™ Human IL-18 ELISA Kit | KTE6023 | 96 T |
| EliKine™ Human IL-22 ELISA Kit | KTE6024 | 96 T |
| EliKine™ Human IL-23 ELISA Kit | KTE6025 | 96 T |
| EliKine™ Human Leptin ELISA Kit | KTE6026 | 96 T |
| EliKine™ Human MMP-9 ELISA Kit | KTE6027 | 96 T |
| EliKine™ Human β-NGF ELISA Kit | KTE6028 | 96 T |
| EliKine™ Human Resistin ELISA Kit | KTE6029 | 96 T |
| EliKine™ Human TGF-β1 ELISA Kit | KTE6030 | 96 T |
| EliKine™ Human TIMP-1 ELISA Kit | KTE6031 | 96 T |
| EliKine™ Human TNF-α ELISA Kit | KTE6032 | 96 T |
| EliKine™ Human VEGF ELISA Kit | KTE6033 | 96 T |
| EliKine™ Human IgG ELISA Kit | KTE6034 | 96 T |
| EliKine™ Mouse CCL2 ELISA Kit | KTE7001 | 96 T |
| EliKine™ Mouse GM-CSF ELISA Kit | KTE7002 | 96 T |
| EliKine™ Mouse IFN-γ ELISA Kit | KTE7003 | 96 T |
| EliKine™ Mouse IL-1α ELISA Kit | KTE7004 | 96 T |
| EliKine™ Mouse IL-1β ELISA Kit | KTE7005 | 96 T |
| EliKine™ Mouse IL-2 ELISA Kit | KTE7006 | 96 T |
| EliKine™ Mouse IL-4 ELISA Kit | KTE7007 | 96 T |
| EliKine™ Mouse IL-5 ELISA Kit | KTE7008 | 96 T |
| EliKine™ Mouse IL-6 ELISA Kit | KTE7009 | 96 T |
| EliKine™ Mouse IL-10 ELISA Kit | KTE7010 | 96 T |
| EliKine™ Mouse IL-12 p70 ELISA Kit | KTE7011 | 96 T |
| EliKine™ Mouse IL-17 ELISA Kit | KTE7012 | 96 T |
| EliKine™ Mouse IL-22 ELISA Kit | KTE7013 | 96 T |
| EliKine™ Mouse TGF-β1 ELISA Kit | KTE7014 | 96 T |
| EliKine™ Mouse TNF-α ELISA Kit | KTE7015 | 96 T |
| EliKine™ Mouse VEGF ELISA Kit | KTE7016 | 96 T |
| EliKine™ Rat IFN-γ ELISA Kit | KTE9017 | 96 T |
| EliKine™ Mouse IgG ELISA Kit | KTE7018 | 96 T |
| EliKine™ Rat IL-1β ELISA Kit | KTE9001 | 96 T |
| EliKine™ Rat IL-2 ELISA Kit | KTE9002 | 96 T |
| EliKine™ Rat IL-4 ELISA Kit | KTE9003 | 96 T |
| EliKine™ Rat IL-6 ELISA Kit | KTE9004 | 96 T |
| EliKine™ Rat IL-17 ELISA Kit | KTE9005 | 96 T |
| EliKine™ Rat TGF-β1 ELISA Kit | KTE9006 | 96 T |
| EliKine™ Rat TNF-α ELISA Kit | KTE9007 | 96 T |
| EliKine™ Rat VEGF ELISA Kit | KTE9008 | 96 T |
| EliKine™ Human β-hCG ELISA Kit | KTE6901 | 96 T |
| EliKine™ Human LH ELISA Kit | KTE6902 | 96 T |
| EliKine™ Human FSH ELISA Kit | KTE6903 | 96 T |
| EliKine™ Human Prolactin ELISA Kit | KTE6904 | 96 T |
| EliKine™ Human TSH ELISA Kit | KTE6905 | 96 T |
| EliKine™ Testosterone ELISA Kit | KTE0001 | 96 T |
| EliKine™ Progesterone ELISA Kit | KTE0002 | 96 T |
| EliKine™ Estradiol ELISA Kit | KTE0003 | 96 T |
| EliKine™ Free Triiodothyronine (fT3) ELISA Kit | KTE0004 | 96 T |
| EliKine™ Free Thyroxine (fT4) ELISA Kit | KTE0005 | 96 T |
| EliKine™ Triiodothyronine (T3) ELISA Kit | KTE0006 | 96 T |
| EliKine™ Thyroxine (T4) ELISA Kit | KTE0007 | 96 T |
| EliKine™ Human PD-1 ELISA Kit | KTE6035 | 96 T |
| EliKine™ Human PD-L1 ELISA Kit | KTE6036 | 96 T |
| EliKine™ Human Alpha Fetoprotein (AFP) ELISA Kit | KTE6037 | 96 T |
| EliKine™ Human Carcinoembryonic Antigen (CEA) ELISA Kit | KTE6038 | 96 T |
| EliKine™ Human Prostate Specific Antigen (PSA) ELISA Kit | KTE6039 | 96 T |
Prev:This is the latest article