Abbkine Scientific Announces There Newly Improved Antibody Purification Protein A/G Kit
Date:2017-03-14
Views:2621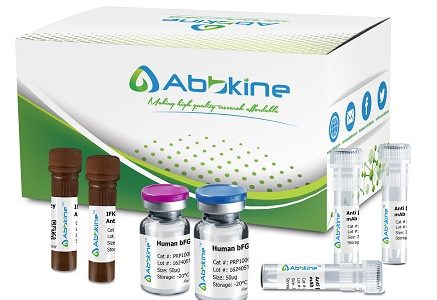 Wuhan, China. 430074. 14th March 2017. The Abbkine Scientific Company has unveiled its highest quality of Protein A/G Agarose as its premium-quality affinity resin for antibody purification. The Purkine™ Protein A/G Agarose consist of recombinant fusions protein A/G that are covalently immobilized onto high-quality beads of cross-linked 4% Agarose for using in lgG purification applications. Tests confirm that the protein A/G resins exceed or equal popular recombinant Protein A/G from leading suppliers and it does not decrease in performance for at least five repeated use.
These particular antibody purifiers from Abbkine provides the most versatile combination features for high purity purification and high yield of the whole lgG from serum samples. The Agarose beads used have chemical and physical properties that are suitable for many affinity purification systems. In addition to the properties and affinity purification, its high flow properties make protein A/G an excellent option for scaling up.
Abbkine Purkine™ Antibody Purification Protein A/G Kit features and benefits include:
High capacity: contains more than 7mg of human resin lgG per mL.
High performance: the combination between the lgG domains of both protein G and protein A together with the recombinant Protein A/G beads contains four Fc-binding domains making it a more convenient tool for purifying immunoglobins and for investigating.
Cost effective: offers the same performance for at least five repeated uses.
Flexible: you can find it in three different formats of bulk resin, spin column, and complete kits.
Robust: because of its highly cross-linked beads, it has a linear tolerate flow rate of up to 300cm/hour.
Easy to use: available in pre-formulated buffers.
The Protein A/G Purification system is an effective purification affinity of lgG from ascites fluid, serum, cell supernatant and other antibody samples. To minimize nonspecific binding of proteins from recombinant protein A/G, it is chemically modified using the propriety method. It binds well to all lgG subclasses including the human LgG subclasses but does not bind with the lgM, serum albumin or the lgA. The portfolio allows the optimization of solubility, maximum protein yield and stability processe.
Using the latest cutting-edge techniques rather than traditional methods, Abbkine has managed to manufacture a series of unique purifications for development and accessories optimization. Their tools are available for samples with improved productivity of nucleic acids, biomolecules markers, antibodies and fusion proteins that are cost effective and makes the workflow easier.
About Abbkine Scientific
Abbkine Scientific Co., Ltd. was founded by a number of scientists and marketing experts in the field of life science in California, USA in 2012. With growing demands from Asia Pacific, it move its headquarters to China. Combining cutting edge technology from United States with China's manufacturing engineering and cost advantages, we aim to provide innovative, high quality assay kits, recombinant proteins, antibodies and other research tools to accelerate life science fundamental research, drug discovery, etc.