Anti-Myc Tag antibodies
Date:2018-08-15
Views:1150
Continued from Anti-V5 Tag antibodies, today I will overview Anti-Myc Tag antibodies.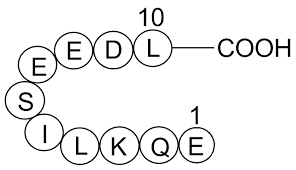 A Myc tag is a polypeptide protein tag derived from the c-Myc gene product that can be added to a protein using recombinant DNA technology. The recombinant Myc fusion protein can be recognized by a well-known high-affinity 2D5 antibody, which can specifically recognizes native and denatured forms of Myc fusion proteins, with which can meet your any requirements for Western Blot, Immunofluorescence and Immunoprecipitation assays. Under native conditions, the elution of Myc-tag proteins can be achieved by the addition of the Myc tag peptide which competes with the recombinant proteins.
Abbkine offers below anti-Myc tag antibodies for your experiments.
[table "20" not found /]
About Abbkine Scientific Co., Ltd.
Abbkine Scientific Co., Ltd. is a leading biotechnology company that focuses on developing and providing innovative, high quality assay kits, recombinant proteins, antibodies and other research tools to accelerate life science fundamental research, drug discovery, etc.  Find more details, please visit the website at Abbkine.
Anti-VSV-G Tag antibodies will be continued next time.