| | |
| --- | --- |
| Background | Histones are basic nuclear proteins that are responsible for the nucleosome structure of the chromosomal fiber in eukaryotes. This structure consists of approximately 146 bp of DNA wrapped around a nucleosome, an octamer composed of pairs of each of the four core histones (H2A, H2B, H3, and H4). The chromatin fiber is further compacted through the interaction of a linker histone, H1, with the DNA between the nucleosomes to form higher order chromatin structures. HIST1H3A is intronless and encodes a replication-dependent histone that is a member of the histone H3 family. Transcripts from HIST1H3A lack polyA tails; instead, they contain a palindromic termination element. HIST1H3A is found in the large histone gene cluster on chromosome 6p22-p21.3. |
| Gene ID | 8350/8351/8352/8353/8354/8355/8356/8357/8358/8968 |
| Alternative | HIST1H3A; H3FA; HIST1H3B; H3FL; HIST1H3C; H3FC; HIST1H3D; H3FB; HIST1H3E; H3FD; HIST1H3F; H3FI; HIST1H3G; H3FH; HIST1H3H; H3FK; HIST1H3I; H3FF; HIST1H3J; H3FJ; Histone H3.1; Histone H3/a; Histone H3/b; Histone H3/c; Histone H3/d; Histone H3/f; Histone H3/ |
| Others | The antibody detects endogenous Histone H3 (tri methyl K9) protein. |
| Accession | P68431/Q71DI3/P84243 |
| Observed Band(KD) | 15 |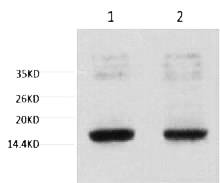 Fig.1. Western blot analysis of hela, diluted at 1) 1:2000, 2) 1:5000.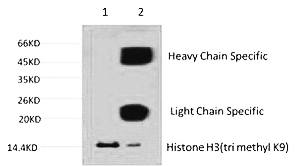 Fig.2. 1) Input: hela cell lysate , 2) IP product: IP dilute 1:200, Western blot analysis: primary antibody: 1:1000, Secondary antibody: Goat anti-Mouse Igg (H+L) (S001) 1:10000 .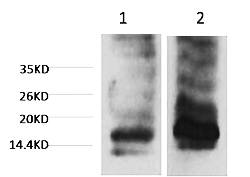 Fig.3. Western blot analysis of 1) Rat Testis Tissue, 2) Raw264.7 with antibody diluted at 1:2000.