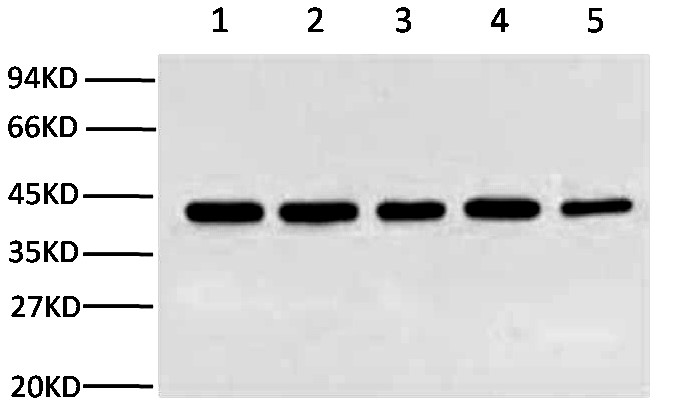 Beta-actin is an isform of actin proteins. Actins are highly conserved proteins that are involved in cell motility, structure, and integrity. Beta-actin, also known as a "housekeeping" protein, is usually used as a loading control, for among others, the integrity of cells, protein degradation, in PCR and Western blotting. Loading controls are essential for proper interpretation of western blots. They can be used to normalize the levels of protein detected by confirming that protein loading is the same across the gel.
Abbkine's Anti-β-Actin Mouse Monoclonal Antibody (1C7)  was affinity-purified from mouse ascites by affinity-chromatography using specific synthetic peptide. It can react with different kinds of species such as, Chicken, Dog, Human, Insect, Monkey, Mouse, Rabbit, Rat. The product has been tested in IHC, WB . Abbkine Suggest the starting dilutions are : WB 1:5000, IHC-p 1:200.
Couldn't speak anymore highly of Anti-β-Actin Mouse Monoclonal Antibody (1C7). I got a good test result. The most important is Abbkine has an amazing customer service. They answer all my questions professionally and enthusiasticly. Next time, I'll choose Abbkine again.