Product Information
Product name

TraKine™ Pro Live-cell Nuclei Staining kit (Deep Red Fluorescence with Super Resolution)

Application notes

TraKine™ Pro is series of long-term super-resolution cell staining imaging portfolio for labeling subcellular structures of live and fixed cells. TraKine™ Pro proprietary excellent fluorescent dyes span the full UV-visible and near IR spectrum. Customized products based on TraKine™ Pro technology are also available. TraKine™ Pro Live-cell Nuclei Staining kit (Deep Red Fluorescence with Super Resolution) is a fluorescence imaging tool for staining of Nuclei in mammalian living cells and fixed cells with high specificity and low background. The proprietary probe in the kit consists of a Nucleus recognition unit and a deep red fluorescent dye (Ex/Em=650/665 nm), the recognition unit can selectively recognize Nuclei and binding with it. It is especially suitable for long-term super-resolution imaging.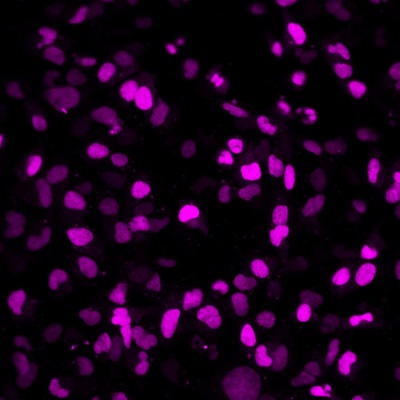 Fig.1. Confocal imaging results of U2OS cells using Abbkine TraKine™ Pro Live-cell Nuclei Staining kit (Deep Red Fluorescence with Super Resolution). It shows that the kit has high labeling efficiency.
Fig.2. SIM imaging results of U2OS cells using Abbkine TraKine™ Pro Live-cell Nuclei Staining kit (Deep Red Fluorescence with Super Resolution). It can be seen that the kit can specifically label Nuclei structures in living cells and perform ultra-high resolution imaging.
Product Properties
Kit components

• NucleiRed™ (200 uM)
• Buffer N

Features & Benefits

• Optimized staining protocol for labeling Nuclei in mammalian living and fixed cells. The product has been tested in U2OS, Hela, COS-7 and ARPE cell lines. If the sample type is not included in the above cell lines, we can provide experimental services for specific cell lines.
• Especially suitable for Confocal and long-term super-resolution imaging (such as SIM, TIRF, STORM and PALM).
• Proprietary NucleiRed™ (Ex/Em = 650/665nm)-high specificity, low background and excellent photostability.
• Low levels of cytotoxicity.

Usage notes

Make sure the pipette tips and PCR tubes were sterilized at high temperature and pressure. Make sure sterile environment and protect from light during the whole experiment.

Storage instructions

Refer to list of materials supplied for storage conditions of individual components. Stable for at least 6 months at recommended temperature from date of shipment.

Shipping

Gel pack with blue ice.

Precautions

The product listed herein is for research use only and is not intended for use in human or clinical diagnosis. Suggested applications of our products are not recommendations to use our products in violation of any patent or as a license. We cannot be responsible for patent infringements or other violations that may occur with the use of this product.
Additional Information
Background

Nucleus is a membrane bound structure that contains the cell's hereditary information and controls the cell's growth and reproduction. Nucleus is present in all eukaryotic cells, they may be absent in few cells like the mammalian RBCs. Nucleus controls the heredity characteristics of an organism. It main cellular metabolism through controlling synthesis of particular enzymes. It is responsible for protein synthesis, cell division, growth and differentiation. It also regulates the integrity of genes and gene expression.
Most popular with customers
Here we provide some standard research protocols for bioscience including molecular biology, cell biology, immunology, plant biology, genetics, etc. To our knowledge, customized protocols are not required for most products. So please try the standard protocols listed below and let us know how you get on.
Preparation methods for Biochemical
Biochemical reagents have been widely used in life science fundamental research as buffer, probes, substrates, intermediates and standards, etc. You may optimize or choose proper protocols for your specific assay. However, some of tips and suggestions listed below may be for your reference.
Antibody application protocols
Antibodies are useful not only to detect specific biomolecules but also to measure changes in their level and specificity of modification by processes such as phosphorylation, methylation, or glycosylation. Here show some protocols and troubleshooting tips on how to get the best from our antibodies.
Protein&peptide usage suggestions
Synthetic peptides, native or recombinant proteins can be used for medical, academic and research purposes, such as gene therapy, drug screening, antibody production, cell function analysis. Here, we provide some of tips and suggestions for your reference.
Commonly used assay kits guidelines
Assay kits that are simple and convenient to use, which are superior in performance and require little to no time for assay optimization. Further details of specific products which are needed for individual protocols are given in the protocols themselves in booklet.
We hope this will be helpful for your research work. Please let us know through support@abbkine.com if you need more information or support.