Product Information
Product name

CheKine™ Total Antioxidant Capacity (TAC) Assay Kit

Application notes

CheKine™ Total Antioxidant Capacity (TAC) Assay Kit provides a simple and easy colorimetric assay for measuring Total Antioxidant Capacity in serum, plasma, cell culture supernatants, urine, tissue/ cell lysates and other biological fluids. In this assay, Fe3+-TPTZ is reduced by antioxidant to Fe2+-TPTZ. The enzyme catalyzed reaction products Fe2+-TPTZ can be measured at a colorimetric readout at 593 nm.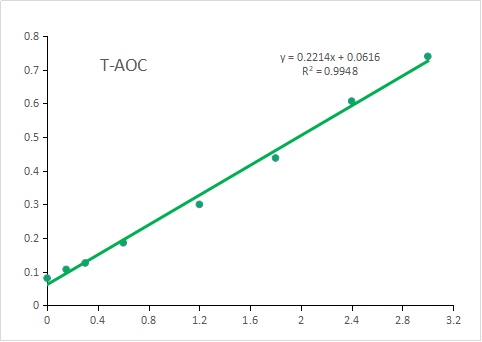 Fig. Standard Curve of Total Antioxidant Capacity (TAC) Assay. The y-axis is OD593 and the x-axis is Fe2+ concentration (mM).
Product Properties
Kit components

• Assay Buffer (10X)
• Substrate Diluent
• Substrate
• Reaction Buffer
• FeSO4• 7H2O Standard
• ascorbic acid (positive control)

Features & Benefits

• Determination of Total Antioxidant Capacity in serum, plasma, cell/tissue samples, urine and bacteria samples.
• Detect biological samples at a level of 0.15-3 mM.
• Using a stronger antioxidant, sascorbic acid as positive control, instead of the frequently-used Trolox.
• The reaction is carried out under acidic conditions, which can inhibit some endogenous interference factors.

Usage notes

• It is recommended to perform several dilutions of your sample to ensure the readings are within the standard value range.
• Fresh samples are necessary for good results. If not assayed immediately, samples can be stored at -80°C for one month.
• Can not use EDTA as the anticoagulant for serum and plasma samples. The samples also can not contain DTT, Mercaptoethanol, Tween, Triton, NP-40.

Storage instructions

Storage at -20°C and Keep from light immediately upon receipt. Kit has a storage time of 12 months from receipt. Refer to list of materials supplied for storage conditions of individual components.

Shipping

Gel pack with blue ice.

Precautions

The product listed herein is for research use only and is not intended for use in human or clinical diagnosis. Suggested applications of our products are not recommendations to use our products in violation of any patent or as a license. We cannot be responsible for patent infringements or other violations that may occur with the use of this product.
Additional Information
Most popular with customers
Here we provide some standard research protocols for bioscience including molecular biology, cell biology, immunology, plant biology, genetics, etc. To our knowledge, customized protocols are not required for most products. So please try the standard protocols listed below and let us know how you get on.
Preparation methods for Biochemical
Biochemical reagents have been widely used in life science fundamental research as buffer, probes, substrates, intermediates and standards, etc. You may optimize or choose proper protocols for your specific assay. However, some of tips and suggestions listed below may be for your reference.
Antibody application protocols
Antibodies are useful not only to detect specific biomolecules but also to measure changes in their level and specificity of modification by processes such as phosphorylation, methylation, or glycosylation. Here show some protocols and troubleshooting tips on how to get the best from our antibodies.
Protein&peptide usage suggestions
Synthetic peptides, native or recombinant proteins can be used for medical, academic and research purposes, such as gene therapy, drug screening, antibody production, cell function analysis. Here, we provide some of tips and suggestions for your reference.
Commonly used assay kits guidelines
Assay kits that are simple and convenient to use, which are superior in performance and require little to no time for assay optimization. Further details of specific products which are needed for individual protocols are given in the protocols themselves in booklet.
We hope this will be helpful for your research work. Please let us know through support@abbkine.com if you need more information or support.