Product Information
Product name

Cell Senescence Kit (β-Galactosidase Assay)

Application notes

Abbkine Cell Senescence Kit (β-Galactosidase Assay) provides reagents for detecting the senescent cells or tissues based on the up-regulation of senescence-associated β-galactosidase (SA-β-Gal) activity at pH 6 during aging. The aging of cells or tissues can be observed under a common optical microscope. SA-β-Gal is present only in senescent cells and is undetectable in pre-senescent, quiescent, tumor or immortal cells.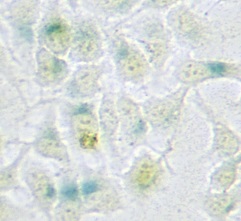 Fig. image using Abbkine Cell Senescence Kit (β-Galactosidase Assay) in HeLa cells with the treatment of Hydrogen peroxide induced senescences.
Product Properties
Kit components

• X-gal (lyophilized)
• Fixation Buffer (10×)
• Reagent A
• Reagent B
• Reagent C

Features & Benefits

• Optimized assay protocol, suitable for cellular senescence detection of senescent cells or tissues.
• Only stain senescent cells and does not stain presencent cells, quiescent cells, immortal cells or tumor cells.

Usage notes

The β-galactosidase staining solution is toxic and corrosive to the human body. Please be careful when handling it, and pay attention to effective protection. Avoid contacting with the human body or inhalation directly.

Storage instructions

Stable for at least 12 months at -20°C from date of shipment.

Shipping

Gel pack with blue ice.

Precautions

The product listed herein is for research use only and is not intended for use in human or clinical diagnosis. Suggested applications of our products are not recommendations to use our products in violation of any patent or as a license. We cannot be responsible for patent infringements or other violations that may occur with the use of this product.
Additional Information
Background

Cellular senescence is a phenomenon in which normal cells cease to divide. The senescent cells can no longer replicate, but they still maintain metabolically active and stain positive for senescence-associated beta-galactosidase activity, which is considered to be a biomarker of cellular senescence. Cellular senescence can be achieved by the activation of oncogenes and cell-cell fusion, DNA damage in response to elevated reactive oxygen species (ROS), rather than relying solely on the number of cellular divisions. During normal aging, the number of senescent cells in tissues increases significantly.
Most popular with customers
Cell Senescence Kit (β-Galactosidase Assay)
Click to download booklet for more details
Notice:Protocol may vary from different lot which is subject to the manual along with the shipment. Please contact service@abbkine.com for your enquiry.
Here we provide some standard research protocols for bioscience including molecular biology, cell biology, immunology, plant biology, genetics, etc. To our knowledge, customized protocols are not required for most products. So please try the standard protocols listed below and let us know how you get on.
Preparation methods for Biochemical
Biochemical reagents have been widely used in life science fundamental research as buffer, probes, substrates, intermediates and standards, etc. You may optimize or choose proper protocols for your specific assay. However, some of tips and suggestions listed below may be for your reference.
Antibody application protocols
Antibodies are useful not only to detect specific biomolecules but also to measure changes in their level and specificity of modification by processes such as phosphorylation, methylation, or glycosylation. Here show some protocols and troubleshooting tips on how to get the best from our antibodies.
Protein&peptide usage suggestions
Synthetic peptides, native or recombinant proteins can be used for medical, academic and research purposes, such as gene therapy, drug screening, antibody production, cell function analysis. Here, we provide some of tips and suggestions for your reference.
Commonly used assay kits guidelines
Assay kits that are simple and convenient to use, which are superior in performance and require little to no time for assay optimization. Further details of specific products which are needed for individual protocols are given in the protocols themselves in booklet.
We hope this will be helpful for your research work. Please let us know through support@abbkine.com if you need more information or support.