Product Information
Product name

Anti-VSV-G-Tag Mouse Monoclonal Antibody (14D2)

Immunogen

Synthetic Peptide

Host

Mouse

Applications

IF, IP, WB

Application notes

Optimal working dilutions should be determined experimentally by the investigator. Suggested starting dilutions are as follows: WB (1:5000), IF (1:1000), IP (1:200).

Clonality

Monoclonal

Isotype

Mouse IgG

Purification

The antibody was affinity-purified from mouse ascites by affinity-chromatography using specific immunogen
Fig.1. Immunofluorescence staining (1:1000) of VSV-G fusion protein in 293 cells with red and counterstained with DAPI.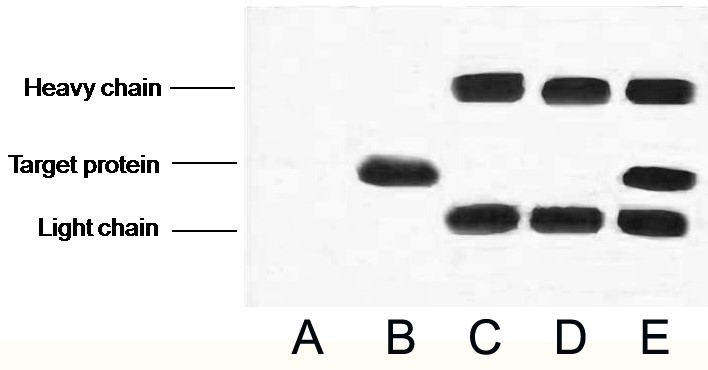 Fig.2. IP (1:200)-WB (1:5000) analysis of VSV-G Tag fusion protein expression in 293 cells. Untransfected 293 cell lysate (lane A), transfected 293 cell lysate with VSV-G tag protein (lane B); IP untransfected 293 cell lysate with Anti VSV-G tag mAb (lane C); IP transfected 293 cell lysate with normal Mouse IgG (lane D) or with Anti VSV-G tag mAb (lane E).
Fig.1. Western blot analysis of 1ug VSV-G fusion protein with Anti-VSV-G mouse monoclonal antibody in 1:5000 (lane A) and 1:10000 (lane B) dilutions.
Product Properties
Formulation

Liquid solution

Storage buffer

Liquid in PBS, pH 7.4, containing 0.02% Sodium Azide as preservative and 50% Glycerol.

Storage instructions

Stable for one year at -20°C from date of shipment. For maximum recovery of product, centrifuge the original vial after thawing and prior to removing the cap. Aliquot to avoid repeated freezing and thawing.

Shipping

Gel pack with blue ice.

Precautions

The product listed herein is for research use only and is not intended for use in human or clinical diagnosis. Suggested applications of our products are not recommendations to use our products in violation of any patent or as a license. We cannot be responsible for patent infringements or other violations that may occur with the use of this product.
Additional Information
Background

The fusiogenic envelope G glycoprotein of the vesicular stomatitis virus (VSV-G) that has been used to pseudotype retrovirus and lentivirus vectors can be used alone as an efficient vehicle for gene transfer. The VSV-G epitope tag is commonly engineered onto the N- or C- terminus of a protein of interest so that the tagged protein can be analyzed and visualized using immunochemical methods.

Alternative names

Vesicular stomatitis virus glycoprotein tag; VSV tag; VSV-G epitope; VSVG; vsvg tag
Most popular with customers
Here we provide some standard research protocols for bioscience including molecular biology, cell biology, immunology, plant biology, genetics, etc. To our knowledge, customized protocols are not required for most products. So please try the standard protocols listed below and let us know how you get on.
Preparation methods for Biochemical
Biochemical reagents have been widely used in life science fundamental research as buffer, probes, substrates, intermediates and standards, etc. You may optimize or choose proper protocols for your specific assay. However, some of tips and suggestions listed below may be for your reference.
Antibody application protocols
Antibodies are useful not only to detect specific biomolecules but also to measure changes in their level and specificity of modification by processes such as phosphorylation, methylation, or glycosylation. Here show some protocols and troubleshooting tips on how to get the best from our antibodies.
Protein&peptide usage suggestions
Synthetic peptides, native or recombinant proteins can be used for medical, academic and research purposes, such as gene therapy, drug screening, antibody production, cell function analysis. Here, we provide some of tips and suggestions for your reference.
Commonly used assay kits guidelines
Assay kits that are simple and convenient to use, which are superior in performance and require little to no time for assay optimization. Further details of specific products which are needed for individual protocols are given in the protocols themselves in booklet.
We hope this will be helpful for your research work. Please let us know through support@abbkine.com if you need more information or support.