HMGB1 (high-mobility group box 1 protein), also known as HMG1 or Amphoterin, is an intracellular protein that is regulated by multiple posttranslational modifications including acetylation, phosphorylation, and methylation. HMGB1 is released upon cell necrosis, apoptosis, and pyroptosis. It acts as a multifunctional alarmin that stimulates inflammation upon sterile or infectious insult.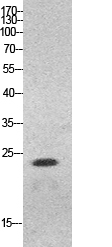 Receptors for HMGB1 include TLR2, TLR4, TLR9, Syndecan-3, Siglec-10, Integrin alpha M beta 2, CXCR4, TIM-3, and RAGE. It is implicated in the pathogenesis of a broad range of diseases including atherosclerosis, sepsis, cancer, neurodegenerative diseases, and autoimmunity.
HMG-1 Polyclonal Antibody was affinity-purified from rabbit antiserum by affinity-chromatography using epitope-specific immunogen. This antibody has been tested with WB, IHC and ELISA. And Abbkine suggested starting dilutions are as follows: WB: 1:500-1:2000, IHC-p: 1:100-1:300, ELISA: 1:20000. Not yet tested in other applications.
HMGB1 encodes high mobility group box 1 that belongs to the High Mobility Group-box superfamily. The encoded non-histone, nuclear DNA-binding protein regulates transcription, and is involved in organization of DNA. It applies to WB, IHC and ELISA experiments. It's convenient to choose this product.