Glucose Transporter 4 (GLUT4/SLC2A4) is a member of a family of proteins that facilitate glucose transport. In response to insulin GLUT4 translocates from low density microsomes to the plasma membrane. Activation of phosphatidylinositol-3-OH kinase is required for this trafficking event but is not sufficient. Insulin resistant subjects with and without diabetes show abnormal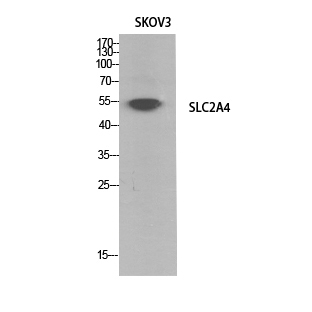 accumulation of GLUT4 in a dense membrane compartment in muscle and adipocytes from which insulin is unable to recruit GLUT4 to the cell surface.
Glut4 Polyclonal Antibody was affinity-purified from rabbit antiserum by affinity-chromatography using epitope-specific immunogen. This antibody has been tested with WB and ELISA. And Abbkine suggested starting dilutions are as follows: WB: 1:500-1:2000, ELISA: 1:20000. Not yet tested in other applications.
I am happy to choose this product. The pictures are beautiful! It is responsible to say that Glut4 Polyclonal Antibody has a reliable quality. It is worth recommending.