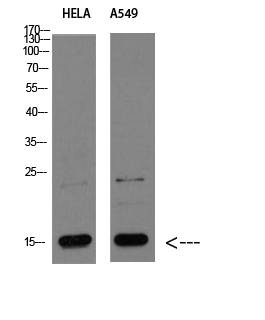 CYCS gene encodes a small heme protein that functions as a central component of the electron transport chain in mitochondria. The encoded protein associates with the inner membrane of the mitochondrion where it accepts electrons from cytochrome b and transfers them to the cytochrome oxidase complex. This protein is also involved in initiation of apoptosis. Mutations in CYCS gene are associated with autosomal dominant nonsyndromic thrombocytopenia. Numerous processed pseudogenes of this gene are found throughout the human genome.
Abbkine CYCS  Polyclonal Antibody was affinity-purified from rabbit serum by affinity-chromatography using synthetic peptide from human protein at AA range: 1268-1341. The verified reactivities are Human, Mouse and Rat. Test confirmed the antibody can be applied in  ELISA, IHC-p, WB. Abbkine suggested the starting dilutions are as follows: WB: 1:500-1:2000, IHC-p: 1:50-1:300, ELISA 1:5000-1:20000.
Supplied as liquid solution at 1 mg/ml, the antibody is stable for one year at -20°C from the date of shipment. For maximum recovery of product, centrifuge the original vial after thawing and prior to removing the cap. Aliquot to avoid repeated freezing and thawing.