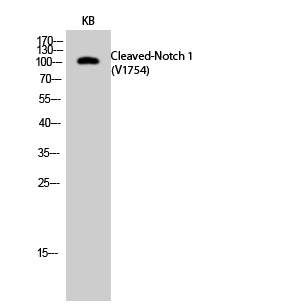 Notch homolog 1, translocation-associated (Drosophila), also known as NOTCH1, is a human gene encoding a single-pass transmembrane receptor. This gene encodes a member of the Notch family. Members of this Type 1 transmembrane protein family share structural characteristics including an extracellular domain consisting of multiple epidermal growth factor-like (EGF) repeats, and an intracellular domain consisting of multiple, different domain types. Notch 1, when activated before birth, induces radial gliadifferentiation, but postnatally induces the differentiation into astrocytes. One study shows that Notch-1 cascade is activated by Reelin in an unidentified way. Reelin and Notch1 cooperate in the development of the dentate gyrus, according to another.
Cleaved-Notch 1 (V1754) Polyclonal Antibody was affinity-purified from rabbit antiserum by affinity-chromatography using synthesized peptide derived from the internal region of human Notch 1. at AA rangle: 1710-1790. The reactivity of this antibody are Human, Mouse and Rat. Test confirmed the antibody can be applied in ELISA, IHC-p and WB. Abbkine suggested the starting dilutions are as follows: WB: 1:500-1:2000, IHC-p: 1:100-1:300 and ELISA: 1:20000.
Western Blot analysis of KB cells using Cleaved-Notch 1 (V1754) Polyclonal Antibody diluted at 1:500 has been shown in the left picture. Supplied as liquid solution, the  antibody is stable for one year at -20°C from date of shipment. For maximum recovery of product, centrifuge the original vial after thawing and prior to removing the cap. Aliquot to avoid repeated freezing and thawing.