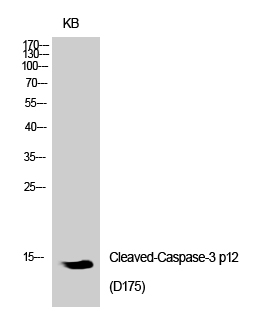 Caspase 3, also known as CPP32, Yama, apopain, plays a key effectors of apoptosis. It acts downstream of caspase 9 in the apoptotic pathway. During apoptosis, it gets activated by proteolytic cleavage into the 17-19 kDa (p17, p18) and 12 kDa (p12) active subunits. Any alteraion in CASP-3 in mice, causes premature lethality. It has also shown that the deletion of gene affects brain development resulting of hyperplasias and disorganized cell deployement. Clinically it is related to Huntington disease (HD).
Abbkine Cleaved-Caspase-3 p12 (D175) Polyclonal Antibody was affinity-purified from rabbit antiserum by affinity-chromatography using synthesized peptide derived from the internal region of human Caspase-3 p12 at AA rangle: 130-210. The Caspase-3 p12 antibody was tested to  react with human sample and can be applied in WB, IHC-P, ELISA. Abbkine suggested the starting dilutions are as follows: WB: 1:500-1:2000, IHC-p: 1:100-1:300, ELISA: 1:20000.
Cleaved-Caspase-3 p12 (D175) Polyclonal Antibody is supplied as liquid solution. The concentration is 1mg/ml. The antibody is stable for one year at -20°C from date of shipment. For maximum recovery of product, centrifuge the original vial after thawing and prior to removing the cap. Aliquot to avoid repeated freezing and thawing. Attention: the product is for research use only and is not intended for use in human or clinical diagnosis.