Loading control antibodies are helpful for assessing western blotting efficiencies and comparing the amounts of protein loaded in each well across a gel. And housekeeping gene coded proteins, such as beta-actin and GAPDH, Tubulin are often chosen to serve this purpose.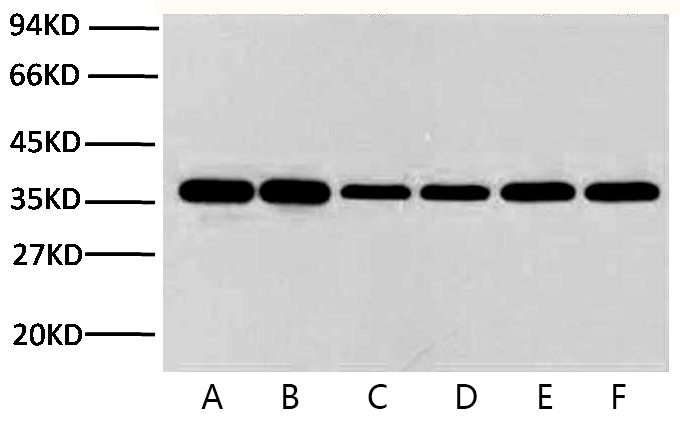 Glyceraldehyde 3-phosphate dehydrogenase (abbreviated as GAPDH or less commonly as G3PDH) is an enzyme of ~37kDa that catalyzes the sixth step of glycolysis and thus serves to break down glucose for energy and carbon molecules.
This GAPDH monoclonal antibody was affinity-purified from mouse ascites by affinity-chromatography using specific immunogen, with broad reactivity such including Chicken, Dog, Human, Insect, Monkey, Mouse, Pig, Rabbit, Rat, Sheep, Yeast, etc. This antibody has been routinely tested with IHC and WB applications. And Abbkine suggest starting dilutions are as follows: WB 1:5000, IHC-p 1:200. While in my research with WB application, 1:20,000 worked well!
So far, this GAPDH monoclonal antibody with clone number 2B5 has been wildly used. And more than 15 publications in the latest one year have been listed in this antibody's website database. It's performance really impressed me!