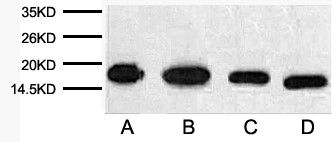 Histone H3 is one of the five main histone proteins involved in the structure of chromatin in eukaryotic cells. Core component of nucleosome. Nucleosomes wrap and compact DNA into chromatin, limiting DNA accessibility to the cellular machineries which require DNA as a template. Histones thereby play a central role in transcription regulation, DNA repair, DNA replication and chromosomal stability.
Anti-Histone H3 Mouse Monoclonal Antibody (2D10) was affinity-purified from mouse ascites by affinity-chromatography using specific immunogen, with reactivity including Human, Mouse and Rat. This antibody has been routinely tested with WB, IF, IP applications. And Abbkine suggested starting dilutions are as follows: WB 1:2000-5000, IF:1:100-500, IP 1:200.
Abbkine is well-known for its fine quality and it wins warm praise from customers. It is responsible to say that Anti-Histone H3 Mouse Monoclonal Antibody (2D10) has a reliable quality and the results are is very stable.